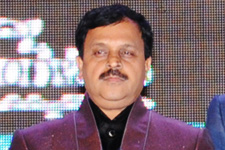 Mr.K N Vasudev Adiga, Managing Director of Adigas Fast Food Pvt Ltd:
Details
Award Category : ENTREPRENEUR
Year : 2011
Mr.K N Vasudev Adiga started with a distinct authentic Darshini Hotel in 1993 serving delicious food at affordable prices and today has 12 Fast Food Restaurants in Bangalore and 2 restaurants in the highways, which cater to the tourists. He has also opened Restaurants in Sharjah, UAE. He has provided employment to around 1500 employees. He has been elected as President Bruhat Bangalore Hotels Associations and under his leadership has carried out several programmes. He has taken initiatives to plant saplings and is contributing towards making Green Bangalore. He is also in the forefront in advocating non use of plastic materials, hence making Bangalore plastic free.