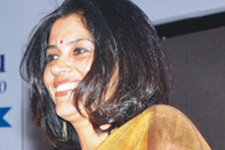 Ms. Vrundha Bhat : Children's Movement for Civic Awareness (CMCA):
Details
Award Category : PRIVATE INSTITUTIONS
Year : 2011
CMCA a pioneering initiative by Public Affairs Centre, a registered society and Swabhimana, a registered trust, both based in Bangalore was launched in the year 2000. They believe that nurturing active citizenship amongst children is a sure way of ensuring a vibrant and participatory democracy. CMCA has witnessed tremendous growth spreading its wings to 5 cities (Bangalore, Mumbai, Mysore, Hosur, Hubli/Dharwad). Its objectives are: To create civic awareness and inculcate civic friendly practices amongst households, communities and others through children, youth and volunteers, to energize the civic education curriculum in schools and colleges, to develop innovative models of civic education, which can be replicated in any part of the country, to be an advocate for child and human rights, to be self reliant , to emerge as a global resource and training centre on civic education and active citizenship, and, to be a leader in education for democracy and active citizenship.