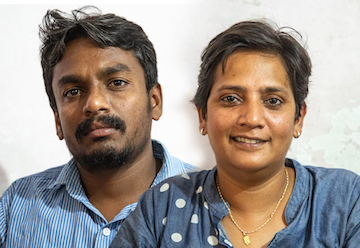 Rajesh Babu and Victoria Joslin D'souza
Details
Award Category : Social Entrepreneur of the Year
Year : 2019
Rajesh Babu and Victoria Joslin D'souza (Social Entrepreneur of the Year)
Rajesh Babu and Victoria Joslin D'souza (Social Entrepreneur of the Year) are co-founders of Swachha eco solutions along with Vinay Raghavan. They have been instrumental in utilizing technology in converting plastic waste into innovative durable products, which include products such as drip irrigation pipes, HDP water pipes and inter locking recyclable plastic tiles.
With the moto of No WASTE IS WASTE, they run a dry waste processing center which collects waste plastics across 54 wards in Bengaluru and recycle over 150 tonnes of plastic every month. Swachha eco-solutions work closely with ragpickers, who are some of the most disadvantaged groups in Bengaluru in processing waste.
They work with apartments and gated communities to manage wet-waste responsibly. Their long-term aim is to ensure that no waste enters landfills but is recycled either through composting or converted into products that is both durable, cheaper than virgin plastic products and widely available to consumers.