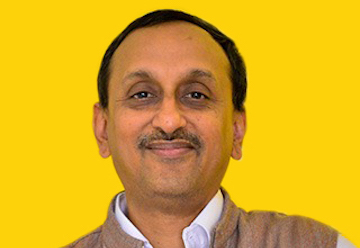 Ashok Kamath
Details
Award Category : Namma Bengalurean of the Year
Year : 2019
Akshara Foundation chaired by Ashok Kamath has been a godsend to primary school children in Government Schools in Bengaluru and Karnataka. Shocked with the declining numeracy and reading levels among, particularly with trends that show less than 80% of Children in India who struggle with simple Division, Ashok Kamath joined hands with the Government of Karnataka around 20 years ago to increase the reading ability of Children in 1425 BBMP schools benefitting 80,000 students between classes II to VII in the initial years.
The Ganitha Kalika Andolana (GKA) or Learn Math Movement conducted in partnership with the Education Department seeks to make Mathematics fun for children who otherwise fear the subject. Thus, strengthening analytical skills of students, making them employable for the future.
Akshara Foundation has also ensured that they take full advantage of technology and ensure that children from disadvantaged groups take advantage of learning systems otherwise only available to the affluent. They have developed an app called Building Blocks, available for android phones and make simple math problems fun for children to grasp.
In the last two decades or so, Akshara has impacted the lives of over million Children in Bengaluru and Karnataka and success in Karnataka has seen their education programmes spread to Odisha, Andhra Pradesh and beyond.